Europe's leading provider of Rotary Unmanned Aerial Vehicle (UAV) platforms, UMS SKELDAR, is presenting its pioneering SKELDAR V-200 platform with ViDAR (Visual Identification Detection and Ranging) for the first time at ADIPEC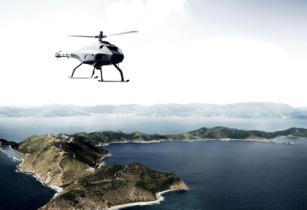 The SKELDAR V-200 can stay in the air for longer, enabling it to monitor and protect critical infrastructure both offshore and across borders. (Image source: Kredo Consulting)
At the oil and gas event, UMS demonstrates how the SKELDAR V-200 can be deployed as a security asset safeguarding the world's critical utility infrastructure.
ViDAR is the first proven wide area autonomous detection system for electro-optic imagery in the maritime domain. Enabling coverage more than 80 times the ocean's surface compared with existing electro-optic sensors, ViDAR transforms the utility of tactical Unmanned Aerial Systems (UAS's) by giving them a 'find' function for the first time.
Offshore oil and gas industry operatives have in the past relied on larger, more expensive aircraft to detect people and objects in the ocean and on land; ViDAR provides the find capability in a smaller, more cost-effective payload.
David Willems, UMS SKELDAR's vice-president Business Development and Strategy, explained, "The incorporation of ViDAR from Sentient Vision is a vital part of our suite of payloads that will be useful for organisations needing to monitor and safeguard critical infrastructure such as offshore oil fields and cross border pipelines. ViDAR is capable of completing over 13,360NM2 of ocean coverage in 12 hours at 60kts using a rotary wing aircraft."
"This is ideal for gas and pipeline operators who have significant distances to monitor 24/7, both on land and at sea. Traditionally, inspections have been completed by deploying teams of people. However, these types of examinations often entail high-risk situations and very long journeys requiring each team member to spend a long time in the field. With our SKELDAR V-200 platform integrated with the ViDAR sensor pod, it is possible to detect small objects such as wooden boats or even people, highlight the findings to the relevant group in charge, and send a team to resolve, all in a far shorter time than the manned alternative," he explained.