Trelleborg's offshore operation is showcasing Elastopipe, its fire-resistant, flexible piping system, at ADIPEC 2019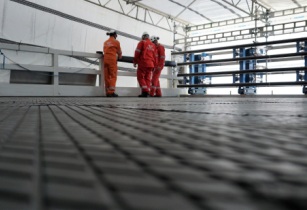 Trelleborg stated that safety is a crucial aspect to operations in demanding offshore environments. (Image source: Trelleborg)
The company stated that this corrosion-free, explosion, impact and jet fire resistant flexible pipe system is key to protection and safety on offshore platforms.
Having been utilised on offshore platforms for more than 20 years, with quick and easy installation, the company claims that it has become a world-renowned solution for reliable piping systems in the industry.
Ole Bjørn Rasmussen, sales manager with Trelleborg's offshore operation, said, "The Elastopipe system can be used across several major applications including deluge and sprinkler systems, utility and drain water systems, as well as nitrogen distribution systems. Installation requires no hot work and once fitted, it is virtually maintenance-free."
Trelleborg's offshore operation presents a wide range of passive fire protection solutions, including Vikodeck and Firenut. These products have been designed using Trelleborg's Firestop, a certified rubber-based material capable of protecting structures from exceeding critical temperature limits.
VikodeckTM is made from Trelleborg's Firestop material and is designed to offer surface protection against blast, jet and pool fire in harsh offshore oil and gas environments. It provides corrosion protection and anti-fatigue damping support for the comfort and safety of employees.
Firenut is a jet fire protection for bolted connections to extend service life in the event of a fire. It is tailor-made to accommodate almost any size of bolt and resists both jet fire and pool fire. A rigid and tough design means that Firenut has extremely good resistance to mechanical damage when installed, the company added.
Morten Kristensen, business group director with Trelleborg's offshore operation, commented, "Trelleborg focuses on being flexible to support the ever-evolving offshore industry. There is currently a great emphasis on offshore safety in the media. As this is becoming more widespread, the global need for fire and corrosion-resistant materials is increasing."