Saudi Aramco is participating in the 2019 Abu Dhabi International Petroleum Exhibition & Conference (ADIPEC) held 11-14 November and encouraging industry representatives to press ahead with implementing Fourth Industrial Revolution (4.0) technologies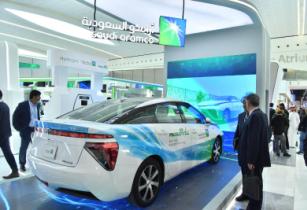 The company's efforts in the energy sector's 4.0 transformation were recognised by the World Economic Forum (WEF) in September 2018. (Image source: Saudi Araamco)
At the conference, of which Saudi Aramco is a partner sponsor, the company's senior vice-president of operations and business services, Muhammad M. Al Saggaf, joined a panel titled "How is the industry embracing digital innovation?" on the industry's digital transformation and the latest trends in technology.
He reflected on the company's research and development (R&D) and deployment of the TeraPOWERS technology, which models reservoir physics from the original generation to final production. This technology enables the company to model the physics of its reservoirs to prioritise prospects, reduce exploration risks and costs, and sustainably manage its reservoirs.
On 13 November, senior vice-president of Downstream Abdulaziz Al-Judaimi will participate in a panel, "Downstream 4.0: Refining and Petrochemicals - Growth Through Innovation and Digitisation," on new strategies around digital, people and business partnership. He will welcome the opportunities presented by 4th Industrial Revolution technologies and reaffirm the country's commitment to continue developing, harnessing, and fully utilising the emergent technologies for value creation.
Saudi Aramco's efforts in the energy sector's 4.0 transformation were recognised by the World Economic Forum (WEF) in September 2018 when the company's Uthmaniyah Gas Plant was named one of the Fourth Industrial Revolution 4.0 "lighthouses". The plant is the only facility in the Middle East recognised by WEF, and Saudi Aramco is the first energy company globally to be included in this group of 16 manufacturing sites selected from an initial list of 1,000 manufacturers from around the world.