Raccortubi Middle East, the UAE subsidiary of Raccortubi Group, is a stockiest and supplier of piping materials for critical applications such as chemical and petrochemical plants, oil and gas applications, power plants, shipyards, fertiliser and desalination plants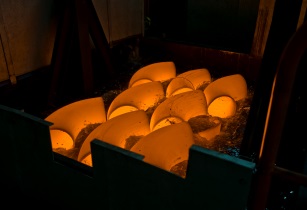 Raccortubi Group's business model benefits from the synergy arising from being both a manufacturer and a distributor. (Image source: Raccortubi)
It has a significant stock availability of pipes, tubes, fittings and flanges in austenitic stainless steel, duplex, superduplex, 6Mo, nickel alloys and titanium.
"We've been now exhibiting for seven years at ADIPEC," said Sunzeev Swami, managing director of Raccortubi Middle East Fze.
"While the first editions were moved by the need of increasing our brand awareness, now we believe we've consolidated our position in the market and wish to strengthen our relationships with existing customers as well as building new contacts with potential ones," he added.
This year also marks the 70th anniversary of the Group.
A long history of experience and reliability, making the Group a partner, more than just a supplier. Raccortubi Group's business model benefits from the synergy arising from being both a manufacturer (with its Italian mills, Tecninox and Petrol Raccord) and a distributor at the same time (with its global presence in Italy, Brazil, Dubai, Singapore and UK).
As a producer, Raccortubi can offer its technical expertise, competitive prices, minimising quality costs given its proven Quality system. As a distributor, it is able to guarantee customers a single contact with whom to manage the whole order – including both Raccortubi-manufactured products and other related items. Thanks to this unique structure, Raccortubi Middle East is able to fulfil project packages quickly and cost-effectively, directly from its local warehouse in Dubai (Jebel Ali free zone).
"Thanks to the local presence, we are able to provide door-to-door piping solutions," Mr Swami highlighted.
Added value is also given by the wide range of personalisation options, including colour coding, marking, extra testing and special packaging, on top of products manufactured upon customer's design.
The on-demand production of butt weld fittings from ½" to 56", together with continuous stock replenishment from the Group's integrated manufacturing plants located in Italy, means that the Company can offer customers complete, tailored piping solutions to short lead times.
Raccortubi Middle East will welcome visitors and customers at ADIPEC, at stand 1250, hall 1.
"For those who are not getting the chance to visit the exhibition, they can always visit the website www.raccortubimiddleeast.com and discover a world of solutions."