Chromatotec Group, specialist in the manufacturing of process gas analysers for online monitoring, is entering the world of liquid sample analysis through the development of a simplified enhanced liquid sampling system (XXvalveLPG), specifically designed to extract representative samples from the liquid phase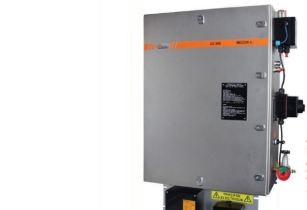 Chromatotec Group has developed a simplified enhanced liquid sampling system. (Image source: Chromatotec Group)
The extracted liquid sample is vapourised and injected in continuous mode into the column of the auto-GC analyser with speciation of more than 16 sulfur compounds or 123 Volatile Organic Compounds (VOCs), according to the configuration type.
In sulfur compounds, H2S, mercaptans such as tert-butyl mercaptan (TBM), dimethyl sulfide (DMS) and/or Total Sulfur (TS) can be analysed in Liquid Propane Gas (LPG), Liquified Natural Gas (LNG) and other liquid samples such as crude oil, diesel, fuel, oil, water and condensates at very low concentration levels (ppb and/or ppm) in automatic routine mode.
This is very useful to control the effectiveness of the odorisation process of LPG, as it is usually odorised with DMS and TBM to alert in case of leakage.
Chromatotec's liquid valve allows the analyses to be performed directly from the liquid phase to overcome the problem of lack of uniformity of the odorised liquid vapours due to the different boiling points of the species when associated with auto-GC with a MEDOR sulfur specific electrochemical detector, such as energyMEDOR analyser.
It is available with dedicated configuration for safe and hazardous areas: ATEX, IECEx, CSA and CSA international certifications for its application in refineries and petrochemical plants.
Stand: 9239