Thirty-two SMEs hosted by the Italian Trade Agency are showcasing a wide range of specialities and sustainable products to improve efficiency across the oil and gas industry at ADIPEC this week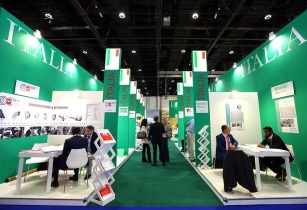 The Italian firms at the ITA pavilion offer a unique expertise in sustainable services. (Image source: Twister Communications Middle East)
The Italian Trade Agency's pavilion was officially opened by Nicola Lener, ambassador of Italy to the UAE, and Amedeo Scarpa, Italian Trade commissioner to the UAE, Oman and Pakistan.
With its 155,000 sq m gross exhibition space, thousands of products and services being showcased, and the involvement of 53 countries and 23 national pavilions, ADIPEC provides the ideal business platform and great opportunities in upstream, midstream and downstream oil and gas sectors.
The 32 Italian companies that are taking part in the exhibition thanks to the support of the Italian Trade Agency, are highly specialised in producing technologically advanced devices and machinery, aimed at increasing the operational performance and efficiency of the entire oil and gas value chain.
The Italian firms at the ITA pavilion offer a unique expertise in sustainable services, engineering and consulting services and customised solutions for the oil industry.
In addition to the support offered by the Italian Trade Agency, the companies are receiving assistance from four Italian organisations that guide and ease business processes locally and abroad and promote and protect interests of companies in the field:
-Anima: Confindustria Meccanica Varia (Federation of Italian Associations of Mechanical and Engineering Industries) acts as the main reference point at national and international level with regards to technical and economic issues of mechanical and engineering companies
-Federazione Anie representing the electrical engineering and electronic companies operating in Italy supplies technologies for public and private infrastructures in strategic markets
-Consorzio Esportatori Piacentini representing industrial businesses promotes the no-profit management of the foreign trade of its associated companies and support export activity of SMEs.
Stand 1430 in Hall 1