The ADIPEC Awards attracted more than 600 submissions from more than 50 countries for the 2019 edition, with the number of entrants increasing by 92 per cent compared to 2018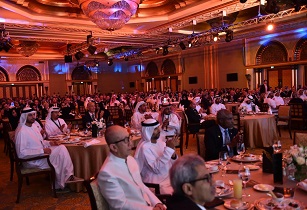 Entrants for ADIPEC awards increase by 92 per cent for 2019 edition. (Image source: ADIPEC)
Building on the successes of previous years, the six award categories in 2019 recognise technological innovation, ground-breaking research on alternative methods of harnessing fuels, and organisations successfully evolving through digital transformation.
For some categories, the number of entries more than doubled, attracting submissions from every continent, underlining the programme's global standing among industry professionals, and the Abu Dhabi International Exhibition and Conference's (ADIPEC's) continued efforts to promote excellence.
Fatema Al Nuaimi, ADIPEC Awards chair and CEO, ADNOC LNG, said, "The Awards jury members and I congratulate the finalists of the ADIPEC Awards 2019, which highlight the oil and gas industry response to global economic and technological trends. We are looking forward to announcing the winners at the awards ceremony in Abu Dhabi on 11 November."
The industry's transformation, with its emphasis on digitalisation and advanced technology, is one of four core focuses for ADIPEC through 'Oil and Gas 4.0', the event's revised strategic conference.
Under the theme of Excellence in Energy, the event includes an all-new category for 2019, the 'Oil and Gas Inclusion and Diversity Company of the Year Award'. The new award recognises organisations excelling in their efforts to promote inclusion and diversity within the industry, which is increasingly seen as vital to recruiting new talent to oil and gas.
The jury is now in the process of selecting this year's group of winners. Comprised of 29 leading energy experts and analysts from across the industry, the judging panel includes representatives from National Oil Companies (NOCs) and International Oil Companies (IOCs), as well as market intelligence firms and oilfield service providers.
Click here to check out the finalists for the ADIPEC Awards 2019.