IEC Telecom Group, a provider of managed network communication solutions, is presenting its latest connectivity solutions at this year's ADIPEC to meet the needs of the oil and gas industry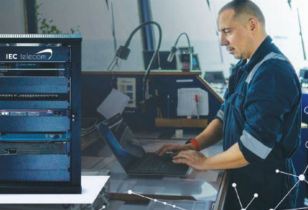 OneGate Energy is designed to meet the requirements of remote units on land. (Image source: IEC Telecom)
The global energy companies are rapidly adopting digitalisation to stay sustainable and competitive by reducing their production and exploration costs. The industry can save up to US$73bn within five years in exploration and production by adopting latest technologies, according to Wood Mackenzie.
Oil and gas firms in the Middle East are also increasing their investments on digital transformation to scale up their output. According to a BP Energy Outlook 2019, the Middle East remains the largest oil producing region and the second largest gas producer, with 36 per cent of global oil and 20 per cent of gas output.
Digital transformation in the oil and gas industry has spurred demand for reliable, secure and high-performance connectivity. In this backdrop and to meet changing customer needs, IEC Telecom Group will display its latest solution OneGate Energy. This satcom solution is designed to meet the requirements of remote units on land. OneGate provides access to a virtual platform that stores critical applications.
This enables the technical team to maintain, update, and upgrade onsite infrastructure remotely, saving time and money on logistics. The actual terminal is a single and compact server rack that is easy to transport in case the exploration team needs to shift from one site to another. OneGate also separates corporate environment from staff network.
This segregation ensures that e-operations and classified data remain safe, eliminating cyber threats. Satcom solutions are playing a significant role in the energy industry, improving efficiency by automating key manual processes and ensuring vastly improved data visibility over critical assets.
These solutions also help in supervision of machinery through remote monitoring/maintenance. Visitors to ADIPEC can learn more about new trends and solutions by visiting the IEC Telecom's stand at ADIPEC Hall 4, Stand No 410.
Stand: 410