Oil, gas and petrochemical projects worth more than US$859bn are either underway or planned in the Middle East and North Africa (MENA), according to a report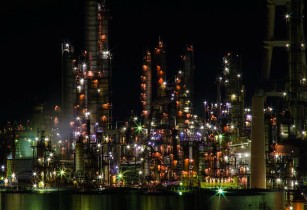 The Kuwait Oil Company has a US$12.3bn project pipeline. (Image source: Mokeneco/Flickr)
Of these, projects worth US$283bn are being implemented as the region gets ready to meet the forecast increases in energy demand over the next two decades.
Global demand for oil will increase by at least 10mn bbl per day by 2040, while demand for natural gas will increase by 40 per cent and petrochemicals by 60 per cent, according to industry forecasts. In particular, the expansion in demand for petroleum and petrochemicals is driving downstream investment across the MENA region, said dmg, organiser of the Abu Dhabi International Petroleum Exhibition (Adipec).
Christopher Hudson, President – dmg events, said, "Breakthrough technologies, the growing global population and rising consumer spending are all combining to create new demand for energy, much of which will continue to be met by the oil and gas industry up to and beyond 2040.
"While producers in the Middle East continue to maximise value from existing fields, there is heightened interest in developing new resources, both offshore and onshore, as well as investing in upgrading and diversifying both infrastructure and products downstream to create new products lines and revenue streams.
"ADIPEC 2019 will be a catalyst for future growth and prosperity in the oil and gas industry, not only providing companies across the hydrocarbons value chain with a forum to gather first-hand knowledge of the dynamic changes taking place in regional oil and gas investment decisions but also enabling them to make the connections necessary to forge new partnerships and tap into the emerging commercial opportunities those investments are creating," Hudson added.
Saudi Aramco is the largest single spender in the oil and gas sector of the region, with more than US$31bn worth of contracts under execution, according to research conducted by MEED, the business intelligence and analytics specialist. The next three highest spenders are the three largest oil and gas companies in Kuwait with a combined project worth US$42.2bn underway.
MEED added that ADNOC has projects with a combined contract value of US$16.7bn under execution across both its onshore and offshore upstream businesses. Outside the GCC, Iraq's State Company for Oil Project and Algeria's Sonatrach have ongoing projects worth US$13.7bn.
Leading the way in terms of pre-execution contract values is Iraq's Ministry of Oil, with projects worth US$19.5bn in the pipeline, of which US$13.7bn is in the bidding phase, according to a list of top oil and gas projects under execution compiled by MEED.
The Egyptian Ministry of Petroleum has plans for projects worth US$12.3bn; the Kuwait Oil Company has a US$12.3bn project pipeline and Algeria's Sonatrach has announced plans to pursue projects worth US$10.8bn, including a US$2.5bn contract for the Hassi Messaoud refinery.