On the occasion of ADIPEC 2019, Emirates Maritime Arbitration Centre (EMAC) has taken the opportunity to deliver a seminar that looks at "Oil & Gas disputes - Past, Present and Future' on 12 November in collaboration with the Abu Dhabi Chamber of Commerce & Industry in Abu Dhabi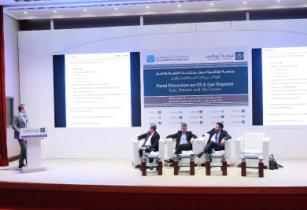 EMAC speakers at the panel discussion on Oil & Gas Dispute - Breakfast with EMAC (ADIPEC 2019). (Image source: Aurora 'The Agency')
Oil & Gas disputes are often complex, cross border and multi-jurisdictional. To add to these complexities is the integration of new technologies that are moving at a development pace regulators are challenged in keeping up with.
How this works proactively and retroactively is what the panellists, Joseph Campbell, General Counsel, Legal, Governance and Compliance Division at ADNOC, Alex Bevan, Partner at Shearman & Sterling and Kagan Aktas, Partner at Secretariat International was put forward to a well-attended event.
Highlighted as part of the discussion was how the complexity of oil and gas disputes has changed over time; the different legal instruments available to deal with such disputes and approaches that need to be considered in keeping with technological developments.
"In order for the Oil & Gas industry to manage dispute processes efficiently, EMAC will continue to seek opportunities that deliver informative presentations that are insightful and practical", said Majid Obaid bin Bashir, chairman and secretary-general, EMAC. "This is EMAC's way of staying connected and engaged with the industry', he continued.
A week following ADIPEC, EMAC will open Dubai Arbitration Week on 17 November with a topic that looks at the landscape of arbitration in the UAE and how businesses can use the efficiencies of arbitration to cut back on the cost of alternative dispute resolution.