Inspection of process piping is becoming increasingly important in the oil and petrochemical industries due to assets running to the limits of their design constraints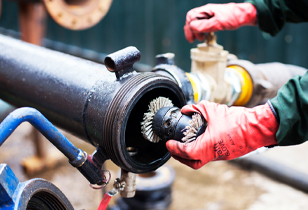 Decoking operators and inspectors work together on site 24/7. (Image source: Cokebusters)
The decision to assess, repair or replace particular parts is a particularly crucial decision in terms of safety and finance, as the incorrect decision could lead to costly and potentially dangerous consequences.
This means that a balance must be struck between programming essential maintenance, minimising downtime and the financial impact associated with taking equipment offline for extended periods of time. Cokebusters combats these issues by deploying their patented intelligent in-line inspection tool as part of their combined service.
The combined service offered by Cokebusters sees mechanical decoking and in-line inspection take place as part of the same activity. Decoking operators and inspectors work together on site 24/7, resulting in no downtime between the decoking of the process tubes and the inspection. The Cokebusters in-line inspection tool is propelled by the same double pumping unit as the decoking tool, meaning that no time losses are incurred to change equipment. The tool has the ability to accurately detect and quantify any remaining internal fouling after the decoking procedures have been completed.
A typical pass will take just 1-2 hours to inspect and data is viewable within minutes. A report on the condition of all tubes within the heater is issued in less than 24 hours of the inspection being completed - all in less time that it would take to erect a scaffold.
The in-line inspection tool has the ability to detect the most common defects found within fired heaters, including: diametric growth, internal and external wall loss, local and general wall loss, localised pitting and internal fouling. All defects can be accurately located both circumferentially and axially within the process tubing.
Cokebusters is exhibiting at ADIPEC 2019 and can be found at stand 8650.
Visit: www.cokebusters.com