Alloy Industry Co., Ltd., a specialist manufacturer for explosion-proof equipment in Thailand, is exhibiting at ADIPEC to strengthen the relationship with existing customers, to establish new contacts and promote their new products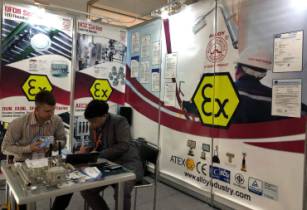 With a strong reputation and branding, Alloy is confident that it will work with the clients in all areas. (Image source: Alloy Industries)
Over the years, Alloy Industry Co., Ltd. has participated in a number of events across regions such as the Middle East, Russia and South-East Asia. The company is well known and very strong in the Asian market, working with many owners and main contractors from the Middle East, Japan and South Korea.
Taking up a large project internationally with the good support of the clients has helped Alloy to further expand its market in other regions. Local partners who have experience in the field in each country of the regions are very important alliances that have a major role to play in running the business to serve the market in all areas, the specialist said.
On 2018, Alloy was awarded the Most Trusted Global Brands Award 2018 in Dubai.
Most Trusted Global Brands Award 2018 is a recognition of excellence and appreciation of brands in various categories that have reached to the pinnacle due to their innovating marketing strategies and tremendous brand recall that has contributed significantly to their success. It is the epitome of brand success which acknowledges the leading brand in its domain on the basis of its superlative performance, the heightened brand recall, loyalty amongst customer base and the values of trust and efficiency that the brand exudes.

Most Trusted Global Brands is a research-based listing of remarkable brands that have the power to create business value and impact much more than revenues and profit margins. These brands have earned consumers' trust and are globally well-established brands, with a long history of consistently delivering on their brand promise.
With a strong reputation and branding, Alloy is confident that it will work with the clients in all areas. They are ready to enter the market in the Middle East and to look for opportunities to serve the market.
Stand 13494, hall 13.