ADNOC Distribution, the UAE's fuel and convenience retailer, has revealed its next generation 'ADNOC on the go' station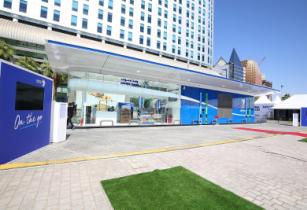 Fifty 'ADNOC On the go' stations planned across the UAE by end 2020. (Image source: Hill+Knowlton Strategies)
The initiative is a major part of ADNOC Distributions refreshed focus on putting customers first, following extensive customer engagement, focus groups and feedback in the past months. The new stations aim to help customers enjoy an exciting fuel and retail experience, supported with the latest technological applications to ensure a pleasant customer journey.
ADNOC Distribution Chairman and ADNOC Group CEO Dr Sultan Ahmed Al Jaber said, "Our new 'ADNOC On the go' stations are designed to be installed in neighbourhoods throughout the UAE, advancing the nation's economic and infrastructure development."
"Their innovative, flexible design allows us to deliver tailor-made solutions for any location and serve customers where larger, traditional stations would not be practical. The smart technologies we are applying, will enhance our customers' journey, providing a more convenient and seamless fuelling and shopping experience. 'ADNOC On the go' is another example of ADNOC Distribution listening to its customers and acting on their feedback. We plan to have 50 new 'On the go' stations operational by the end of 2020," he added.
ADNOC Distribution's 'ADNOC On the go' service stations will comprise varying designs to reflect customers' needs in each individual neighbourhood in terms of size, the number of pumps and type of Oasis store.
As ADNOC Distribution expands its network, its stations will be tailored to the locations and the communities they serve, from the 'five star' highway version that caters for long distance travellers through to those within local communities, where customers look for convenience to get them quickly on their way again. Industrial areas will also be served, ensuring that the network adequately supports both residents as well as businesses across the country.