The 2019 edition of the Abu Dhabi Petroleum Exhibition and Conference (ADIPEC) is set to confirm the event's status as the world's leading oil and gas exhibition and conference, with increased participation from major global oil companies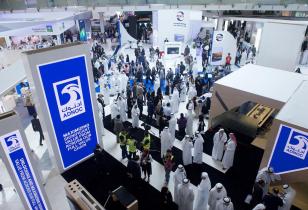 With more than 2,200 companies exhibiting, 145,000 people from 136 countries to attend the four-day event. (Image source: ADIPEC)
More than 30 national oil companies (NOCs) have confirmed their participation at ADIPEC, which will take place in Abu Dhabi, from 11-14 November, up from 27 last year, while 17 international oil companies (IOCs) have confirmed their attendance, up from 15 in 2018.
The latest edition of ADIPEC is also on track to host more than 145,000 people during the event's four days, from 136 countries. About 11,000 conference delegates are expected to attend the expanded conference programme of 166 sessions.
Demonstrating the increased appeal of ADIPEC among oil and gas professionals, the number of technical abstracts submitted for consideration has surged from 2,829 to 3,652. The number of entries for the ADIPEC Awards has also jumped sharply, from just more than 450 to more than 600.
Meanwhile, ADIPEC's exhibition will welcome more than 2,200 international companies across 160,000 gross sq m of floorspace, with 29 exhibiting country pavilions. The exhibition will include offshore and marine industries at a unique waterfront exhibition that boasts ship, vessels and a jack-up barge display.
"We have worked consistently to expand the scope of ADIPEC in recent years, from an event that catered primarily to the upstream industries, to one that includes the full range of upstream, midstream and downstream sectors, and that gives us a unique position when compared with other, similar conferences or exhibitions internationally," said Christopher Hudson, president – dmg events, which organises ADIPEC.
"This constant evolution has supported the growth of the event, ensuring we maintain and increase our relevance, reflecting the industry's most urgent concerns in a time of profound change."
On the strategic front, the reshaping of the ADIPEC's highly respected strategic conference as 'Oil & Gas 4.0' is also elevating the event among industry leaders, linking the conversation around oil and gas to the 'Fourth Industrial Revolution', and the emerging technologies that are transforming productivity and efficiency.
Ranging across artificial intelligence (AI), blockchain technology, big data, machine learning, automation, cloud computing, cyber-security, edge computing, robotics, and unmanned vehicles, these tech megatrends are profoundly changing oil and gas operations, and the professional skills required for sustainable growth.
"The impact of technology is a major focus for our delegates and exhibitors, changing the way the industry works, which is clearly visible from the increasing range of tech-focused products exhibited at ADIPEC, with digitalisation now a large component of both the exhibition and conference," said Hudson.