Abu Dhabi International Petroleum Exhibition and Conference (ADIPEC) Awards is set to provide an opportunity for organisations and individuals from around the world to gain recognition as being amongst the best in class across the oil and gas industry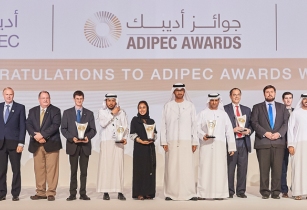 From the 2018 winners. (Image source: ADIPEC)
ADIPEC Awards focus on highlighting achievements across the industry's response to global economic and technological trends; recognising successes in social contribution and community empowerment and honouring workplace diversity and young professionals for their contribution to the industry.
Commenting on the applicants, Fatema Al Nuaimi, CEO of ADNOC LNG, Awards Chair 2019, "We are looking forward to receiving a higher number of global submissions and in return reward the industry's best in class organisations and individuals."
ADIPEC AWARDS categories 2019
· Breakthrough Technological Project of the Year: This award will recognise the year's best new innovative technological development made within upstream, midstream or downstream sectors with the power to become a gamechanger/disrupter in the industry.
· Breakthrough Research of the Year: This award aims to reflect the importance of scientific research and innovation, promoting better use of energy sources and encouraging a new generation of researchers to achieve success in their work. This award seeks to highlight research applicable to the oil and gas value chain, enabling the industry transition in managing the environment, harnessing technology and driving the efficiency and safety agendas critical to the industry.
· Digital Transformation Project of the Year: This leverages third platform technologies such as cloud, mobile, big data and social, coupled with organisational, operational and business model innovations to create new ways of operating and growing businesses.
· Social Contribution and Local-content Project of the Year: This is a major priority of host governments and industry players alike as a means of maximising the benefits to be gained from their petroleum industries through creating employment, developing local skills and capacity, transferring know-how, collaborating with local suppliers and subcontractors and enhancing local entrepreneurship.
· The Oil and Gas Inclusion and Diversity Company of the Year: This award has been developed to recognise a company for their contribution in promoting, delivering and embedding inclusion and diversity into their business strategy creating an equal, diverse and inclusive environment for all in their organisation.
· Young ADIPEC Technical Professional of the Year: This award will recognise a young technical professional who has shown the ability to become an important contributor to the future development of the industry and who has strong potential to reach senior management level.