SNC Lavalin presented a technical session on modular construction for oil and gas projects at ADIPEC 2016 that promoted a 30 per cent reduction in project costs through standardised and modular solutions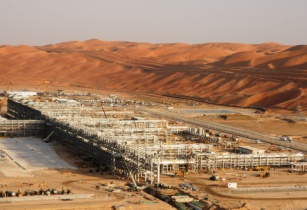 Shaybah GOSP4 that is harnessing standardisation. (Image source: Bell Pottinger)
The oil and gas sector is under increasing pressure to reduce costs and enhance efficiency for energy projects. Against such a backdrop, standardised designs and modularised construction techniques are the best way for the industry to achieve this, according to experts at SNC Lavalin, a top-tier engineering, procurement and construction group in the Middle East.
"While it is not a new concept in the oil and gas industry, standardisation is fast emerging as the most efficient and economical option in the EPC sector in the Middle East. Implementing standardised designs and adopting a modular approach to processing units can significantly reduce project budgets, project schedules and construction site work, sometimes by as much as 30 per cent," said Alan McLean, executive vice president, oil & gas, SNC Lavalin Middle East. "This can really be a game-changer for an industry whose players need to spend less for the same output and to the same high standards. Our standardised solutions allow them to do this."
SNC Lavalin presented at ADIPEC 2016, showing visitors the benefits of standardised and modularised solutions through a series of highly informative interactive displays of its oil and gas projects at its stand on the concourse. The company also showcased its training and simulations capabilities using interactive virtual reality technology. On 8 November, Peter Dennis presented an ePoster session on "Improving Electrical System Efficiency in Oil & Gas Facilities," and on 9 November, John Jeffers delivered a technical session on "Achieving Predictable Outcomes for Modular Construction in Mega Projects.".
During the first half of 2016, SNC Lavalin won contracts worth more than USD$1.1 bn in the region, mostly in the oil and gas sector. Representative ongoing oil and gas projects include asphalt production facility contract for Saudi Aramco's Ras Tanura Refinery in Saudi Arabia, engineering consultancy for Oryx GTL in Qatar, oil processing facility, EPC work for Exxonmobil's West Qurna 1 field in Iraq and a wastewater treatment project for LAFFAN Refinery 2 for QatarGas.
In 2014, SNC-Lavalin acquired Kentz, a global engineering and construction solutions provider to form an oil and gas group of 20,000 people world-wide, with approximately 10,000 in the Middle East. Together, the firm is a tier 1 engineering and construction leader, offering client-focused, end-to-end engineering and construction solutions across upstream, midstream and downstream projects to many of the world's leading energy companies.