The 18th edition of ADIPEC 2015 has seen more than US$9bn worth of deals being signed, according to Chris Hudson, the head of energy events at DMG events, who spoke at the closing plenary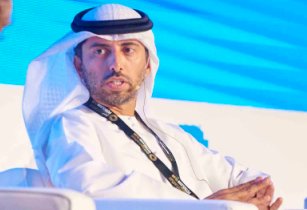 The UAE energy minister shared highlights of ADIPEC 2015 at the closing plenary. (Image source: Wallis Marketing Consultants)
The Abu Dhabi National Exhibition Centre has opened its doors to more than 86,000 visitors this year, compared to 76,240 in 2014, an increase of almost 13 per cent, DMG revealed.
The biggest ADIPEC to date, the event saw 2,050 exhibitors from across the globe, a signigicant rise from 1,800 last year.
"Based on our early survey results and compared with last year, the total amount of deals signed at this year's event will be more than $9bn, and in our experience that doesn't reflect the biggest deals," Hudson said as ADIPEC 2015 drew to a close.
Also speaking at the closing plenary, Suhail Al Mazrouei, UAE energy minister, stated, "The response we have garnered at ADIPEC is a sign of optimism in the oil and gas industry and testimony to the energy sector's resilience. Yes, we are facing challenges, but the energy sector will always find its way around them through cost optimisation, innovation, developments in technology, and industry collaboration, all of which ADIPEC enables."
Some of the highlights at ADIPEC 2015 were mentioned at the closing plenary, including the Woman In Industry conference which kicked off the four-day event and new to this year's ADIPEC, The Offshore, Marine and Heavy Equipment zone which welcomed 85 exhibiting countries.