The UAE-based offshore solutions provider Unique Wellube has announced its expansion, investment and strategic plans at ADIPEC 2014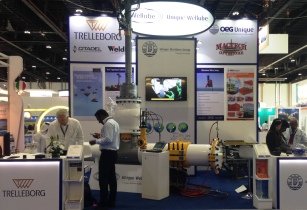 ADIPEC is a meeting point for industry leaders across the world to discuss the changing face of the industry. (Image source: Unique Wellube)
The company said in a statement that it will invest US$2.5mn to strengthen its oil and gas division. It has also launched its products and services in the markets such as Saudi Arabia, India, UK and West Africa as part of its expansion plans.
"In addition to the existing line-up of products, our cargo-carrying containers line of business will also be launched to customers within our existing markets. This will be combined with our marketing initiatives to strengthen Unique Wellube's brand value in the market," added the statement.
During the ADIPEC 2014 exhibition, the company will showcase its new line-up of products and services to the oil and gas industry. Some of these products include pipe weld testers, online valve testing equipment, diamond wire equipment and pipe spool.
Sahil Gandhi, managing director of Unique Wellube, said, "We are exhilarated to enter new markets with a commitment to offer our best and superior range of products and services to customers within these regions. We will adhere to the same standards of services as we have offered globally with an intention of making our customers happy by providing more efficient and cost-effective solutions."
Unique Wellube offers its services to diving, marine, oil and gas industries. The services are focused on ensuring plant and pipelines operate in a safe and cost-effective manner.

Stand: 1332 (Hall 1)