Global multi-industry manufacturer SPX, with approximately US$5bn in annual revenue, has been exhibiting regularly at ADIPEC for over 10 years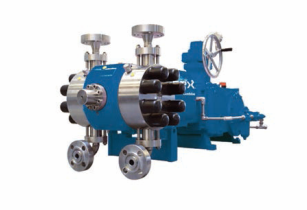 SPX develops, manufactures and markets pumps and equipment for industrial, horticulture, shipbuilding, marine and automotive use under its Johnson Pump brand. (Image source: SPX)
This year, the company will be showcasing a selection of technology, all designed to offer safe, reliable, high performance operation.
This will include the innovative Bran+Luebbe double-acting double diaphragm pump head. Designed specifically for offshore use, it offers increased pumping capacity and a much reduced footprint compared with equivalent single-acting pumps with a leak-free design.
It will also be showing the GD Engineering Band lock quick opening closure, which is a well-proven high pressure closure technology, setting the standard in reliability, safety and integrity.
Several other SPX brands and products will also be on display including Plenty filter technology, mixers, waveguide dryers, APV heat exchangers and Clyde Union pumps.
SPX experts will be at the venue to discuss its advanced capability in producing solutions which offer proven high performance, reliability, safety and sustainability.
SPX will also be looking to develop strategic partnerships and alliances, network with new prospects and current customers, further deepen its understanding of the latest market drivers in the industry.
The company's highly-specialised, engineered products and technologies are concentrated in flow technology and energy infrastructure.
Many of SPX's innovative solutions are playing a role in helping to meet rising global demand for electricity particularly in emerging markets, and its products include critical flow components for oil and gas processing, power transformers for utility companies, and cooling systems for power plants.
Stand: 3240 (Hall 3)