For the very first time, Saudi Power Transformers Company (SPTC) has exhibited its range of transformers for the oil and gas industry at ADIPEC 2014 in Abu Dhabi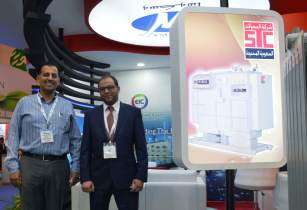 Hany Abusalem (right) with Saudi Aramco electrical engineer for projects and strategic department Adnan A.Al-Jaman at EIC stand.
Talking about the participation at ADIPEC, V-P sales and marketing Hany Abusalem said, that as a subsidiary of Saudi Arabia's EIC, the company has showcased its range for oil and gas industry in the Gulf.
"Recently, we got an order from Saudi Aramco for transformers for drilling rigs. Our customer base is mainly the contractors who build the rigs for the O&G companies. This prompted us to be here and lookout for clients, who are suppliers to the energy companies, including petrochemicals."
For the O&G industry, Abusalem stated that SPTC has transformers range from 20MVA to up to 100MVA, which have quite a big demand in the market currently.
The SPTC V-P added that the 'hand-made' products are customised for individual needs. "For the oil & gas business, companies like Saudi Aramco follow American standards. So we have design transformers meeting both American and IEC (European) standards."
Abusalem noted that with regards to exhibitors and visitors at ADIPEC 2014, he was impressed with what he saw.
"We are at an advantage in the Gulf because we are a 'local' company and that is helping us get good clients who want the same standard in transformers as oversees but without hassles."
In Saudi Arabia, SPTC revealed that due to the size and share in the market, STPC is focussing on the market more than others. The company is currently aiding Saudi Aramco with Jazan refinery and Sabic with Al Bayroni, one of the affiliates. The company also has eyes on projects for Sasref in Jubail and other projects for the Saudi Electricity Company (SEC), Abusalem revealed.
However, this does not mean that SPTC is only expanding in one country. "We have begun to explore the Middle East region, starting with the UAE. Then we plan to go to Qatar, Kuwait and Bahrain."
With Saudi Arabia as its biggest market, SPTC is leaving no stone unturned to participate in SAOGE as well. "It is very difficult to get hold of contractors and events like these provide a chance to get everybody on one platform. We get to meet the biggest and key players in the industry."
With regards to building more capacity and expansion plans, Abusalem noted that SPTC is manufacturing 10 transformers per month and the company is planning to increase capacity based on their market demand, which the executive is very optimistic about.
SPTC's factory in Dammam is the largest transformers manufacturing unit in the region and the company has an office in Abu Dhabi as well to cater to the UAE market.