Supplier of cutting tools and tooling solutions in metalworking industry Sandvik Coromant will launch a live online chat service that will provide additional digital support for customers in Middle East at ADIPEC 2014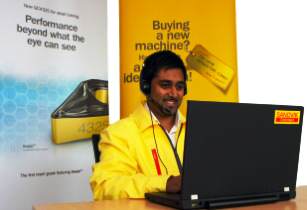 At ADIPEC 2014 Sandvik Coromant will also launch an exciting new digital service for customers in the Middle East. (Image source: Sandvik Coromant)
The company has come up with two digital initiatives to support its customers in the Middle East
The other is an online training service to help production engineers and manufacturing specialists keep abreast of the latest metal cutting solutions and practices when machining modern oil and gas exploration and production technologies.
According to Sandvik Coromant, the free e-learning programme is the first comprehensive online training for metalworking skills and can be accessed from anywhere at anytime. It is based on the Sandvik Coromant Metal Cutting Technology training handbook used for all in-house training at the company's productivity centres.
To make the material more user-friendly for online access, it has been divided into nine chapters and 75 training courses and features useful comments, voice over, animated graphics and video clips.
The programme encompasses the topics of machinability, turning, parting and grooving, threading, milling, drilling, boring, and toolholding as well as machining economy and maintenance. The e-learning programme is currently available in English. A feedback form and online examination with certification are included within the programme.
Valerio R. Vertua, sales manager at the Middle East, said, "This new service demonstrates our commitment to provide close support and share knowledge with customers operating in this region. We're pleased to be the first tooling supplier to offer such a service and look forward to extending a new channel of communication to market contacts."