Producer and distributor of paints and powder coatings Jotun will showcase its advanced portfolio of protective coatings solutions for the Middle East petroleum industry at the ADIPEC 2014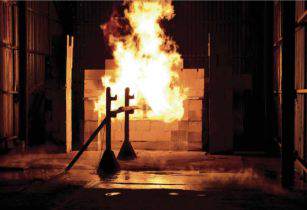 Jotachar JF750 is a mesh-free passive fire protection (PFP) coating. (Image source: Jotun)
Jotachar JF750, mesh-free passive fire protection (PFP) coating, has been designed to reduce installation time and material costs on offshore and onshore assets. It is the only mesh-free epoxy intumescent coating solution available in the market where jet fire protection is required for safety critical steel structures, divisions and vessels, according to the company.
Held under the patronage of HH Sheikh Khalifa bin Zayed Al Nahyan, President of the UAE, from 10-13 November, the protective coatings manufacturer will also present innovative concepts that enable offshore operators to protect their assets against jet fires, ensuring compliance with stringent international offshore safety standards.
This is particularly important as the Middle East region has recently set up numerous offshore projects with the aim to diversify economic resources and reduce its reliance on oil and gas, the company said.