Hand protection and safety glove manufacturer Globus will be exhibiting its portfolio of innovative protective gloves for the oil, gas and petroleum industry at ADIPEC 2014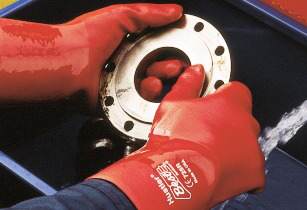 Chemical resistant gauntlets protect against solvents and acids and can provide a non-slip wet grip to make handling safer. (Image source: Globus)
Hands are an essential tool as the contact point for every worker in the oil and gas industry making gloves an essential piece of work wear.
Gloves, which are specified to match both the hazards as well as worker requirements, can be invaluable for the 'task in hand' and positively lessens hand accident rates and save costs at the same time.
Globus has developed effective hand protection solutions to perform in extreme climates and to protect from impact, chemicals, cuts, abrasion, water and punctures. As well as reducing the risk of hand accidents, the specialist gloves can also provide powerful grip in wet and oily handling conditions.
They should also be comfortable to wear and provide an ergonomic fit. This can help to reduce the incidence of workers removing gloves who find them uncomfortable and subsequently putting themselves at risk.
Steve Shale, marketing manager at Globus, said, "We are delighted to be showcasing our hand protection solutions containing innovative technology at ADIPEC. Oil and gas workers shouldn't be at risk of hand injuries caused by ineffective personal protective equipment (PPE). When hand safety challenges are analysed, specific task-related gloves can be specified that not only protect the workforce, but encourage productivity too. Our gloves are designed to meet the rigorous requirements of the oil and gas industry and also enhance the wearer's performance, which can ultimately boost productivity."
In conjunction with health and safety teams, Globus officials said that they can help build hand protection policies for organisations operating in this sector. The range fulfils all legal obligations to provide safe PPE in the workplace, contributing to widespread wearer acceptance.
Stand: 8225D (Hall 8)