The Abu Dhabi International Petroleum Exhibition and Conference (ADIPEC) 2014 will witness international leaders from the energy sector attend the event with major business agreements taking place from 10-13 November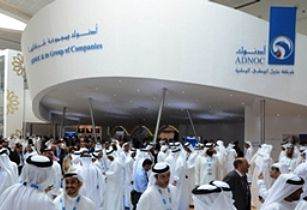 According to organisers, technology will be used to enhance the ADIPEC experience with a dedicated ADIPEC 2014 smartphone application and onsite interactive screens. (Image source: ADIPEC)
Held under the patronage of HH Sheikh Khalifa Bin Zayed Al Nahyan, President of the UAE, this year's ADIPEC will marking 30 years of service to the oil and gas industry across the world.
Hosted by the Abu Dhabi National Oil Company (ADNOC), organised by dmg events and supported by the UAE Ministry of Energy and the Abu Dhabi Chamber, ADIPEC 2014's theme is Challenges and Opportunities for the Next 30 Years.
Ali Khalifa Al Shamsi, chairman of ADIPEC 2014, said, "Since 1984, ADIPEC has been known as a platform for industry stakeholders to network, collaborate and learn from one another. As we examine the challenges of the next 30 years, such opportunities become even more vital to our industry.
"This year, the ADNOC stand at ADIPEC will have a full programme of activities, including interactive panels and technology presentations. In addition to video films, which provide an overview of our various projects, there are new interactive technologies which visitors to the ADNOC stand can use to bring our work in the oilfields to life. The ADNOC stand will feature daily agreements and signings as we work with our industry partners to ensure that we meet the growing global energy demand while building efficiency and sustainability in all our practices."
According to organisers, technology will be used to enhance the ADIPEC experience with a dedicated ADIPEC 2014 smartphone application, which is now available for download, and onsite interactive screens, which will help attendees keep track of all the activities taking place during the world-class energy event.
ADIPEC 2014 is expected to be a launching pad for business agreements in the energy sector. The industry-setting event is set to attract more than 1,800 exhibitors, 6,500 delegates and 400 speakers, breaking last year's records. More than 60,000 oil and gas professionals are set to attend, of which 53 per cent have joint or direct purchasing authority. The 2013 event generated US$5bn in business, with 39 per cent of visitors coming for network opportunities.
Sixteen National Oil Companies (NOCs) and 17 International Oil Companies (IOCs) have confirmed their presence at ADIPEC this year, the highest NOC and IOC participation in the event's history.
NOCs new to ADIPEC this year are companies representing Mexico, Indonesia and Tunisia, which will be joining the ranks of key market players including the Kuwait Oil Corporation (KOC), Qatar Petroleum (QP), Saudi Aramco, and China Petroleum Technology & Development Corporation. IOCs from Russia, Italy, and South Korea have also announced their participation, together with companies representing the USA, Norway and the Netherlands.
The event will feature 20 international pavilions, a 25 per cent increase from last year, with the participation of the world's major oil producers including the USA, China, Canada and Mexico. New countries being represented in ADIPEC's international pavilions this year are Malaysia, India, Nigeria, Indonesia and Taiwan, further cementing the event as a global platform for learning best practice.
Leading speakers in the ADIPEC 2014 Conference Programme include representatives from Saudi Aramco, Shell, GE Oil & Gas and BP.
Billed as the premier speaking platform in the Middle East and North Africa, the programme will feature 81 technical sessions in nine key industry topics: exploration and production geoscience, unconventional resources, field development, drilling and completion technology, project engineering and management, operational excellence, HSE, gas technology, and people and talents.
The programme will commence with an opening ceremony followed by a keynote speech from physicist Michio Kaku who will discuss the outlook of the energy sector over the next 30 years, and the critical role of technology and innovation in achieving sustainability.
Ahmad Mohamed Al Kaabi, director of petroleum economics department at UAE Ministry of Energy, said that ADIPEC 2014 reinforces the UAE's commitment to help build a sustainable model of energy production and share best practice.
"The UAE is seeking to increase its crude oil production capacity to 3.5mn bpd in the coming years to ensure global market stability. To meet the demand for petroleum by-products, the country is also increasing its refining capacity to reach around 1.1mn bpd," Al Kaabi added.
According to Helal Mohammed Al Hameli, deputy director general of Abu Dhabi Chamber of Commerce & Industry, ADIPEC has made exceptional achievements, which have contributed to consolidating its niche as a major meeting-point and destination for leading experts, decision-makers, specialists and companies operating in oil and gas sectors and coming from all quarters of the globe.
The ministerial panel will bring together Suhail Al Mazrouei, UAE minister of energy, and international ministers who will offer new insights on developing in-country value through the development of local talent.
Christopher Hudson, senior V-P, energy at dmg events, noted, "With increasing energy consumption, it is essential that the world's decision makers address the growing need for energy and develop strategies for securing sustainable resources for the future. ADIPEC 2014 continues to drive thought-leadership in the energy sector by bringing together influential leaders, experts and professionals under one roof."
The event will also feature Young ADIPEC to motivate the next generation of engineers with a series of activities, including site visits and industry-related competitions and demonstrations, designed to encourage students to follow a career path in the energy sector.
Decision makers from around the world will be participating in the event, making it an ideal platform for exchanging ideas and reaching agreements that address the ever-growing global demand for energy.