Victaulic, a manufacturer of mechanical pipe-joining systems, will exhibit and demonstrate its range of piping products for the oil, gas and petroleum industry at ADIPEC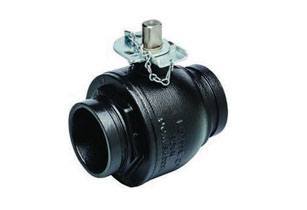 The Series 727 Ball Valve weighs one-third less than equivalent flanged valves, easing handling and installation. (Image source: Victaulic)
The US-based company will also introduce its new Series 727 Ball Valve, which is a high-pressure, enhanced port, NACE-compliant valve with grooved ends for upstream oil applications, at the Abu Dhabi event.
Victaulic said that the ball valve provides better flow characteristics and enables quick and easy installation and maintenance.
The flow testing demonstrated up to one-third better flow than competitive standard port ball valves and when joined with Victaulic grooved couplings, enables quicker and easier installation and maintenance than flanged valves.
The Series 727 also weighs one-third less than equivalent flanged valves, further easing handling and installation, the company added.
At the event, Victaulic will also exhibit grooved products for upstream, midstream and downstream applications, including Vic-Press, a press system that joins pipe in a matter of seconds, apart from a full line of the latest couplings, fittings and accessories for upstream, midstream and downstream applications.
Dan Christian, director of Oil, Gas, Chemical & Power Markets, said, "Over nine decades, Victaulic product durability has been thoroughly tested in the most hostile of environments. The company's latest valves, couplings and accessories are manufactured to the same rigorous standards as ever, combining innovation with long-term service."

Victaulic will be exhibiting on Stand 8325 in the US National Pavilion at ADIPEC 2013