French manufacturer TTK exhibited its new multi-leak, fast-responding and reusable hydrocarbon liquid leak detection sense cables, FG-OD, at this year's ADIPEC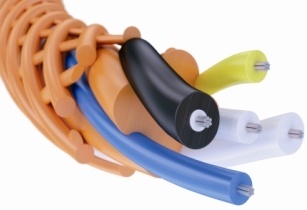 TTK's new range of multi-leak digital sensing cables can detect and locate leaks of hydrocarbon liquids. (Image source: TTK)
Launched in time for the Abu Dhabi oil and gas show, the new range of digital sensing cables can detect and locate leaks of hydrocarbon liquids or non-conductive solvents, helping to ensure safety in potentially hazardous areas.
Unlike existing models, the FG-OD cables are reusable meaning they are a more sustainable solution and allow clients to test whether the cable is working efficiently before installing.
Raul Risi, TTK oil and gas division manager, explained, "If it's gasoline then it just evaporates and [the cable] can be reused, otherwise if it's oil you can just clean it with a specific solvent and then actually put it back into service, which is something existing products don't allow."
Once a leak is detected the sense cable transmits the information to a digital control panel, such as the FG-NET Touch Screen Digital Panel, which triggers an alarm and, thanks to the independent digital microchips in each sense cable, displays the location of the leak.
A leading producer of liquid leak detection systems for more than two decades, TTK has good references in water and liquid detection, and this new range of cables is suitable for various environments in the oil and gas industry, such as storage tanks and pipelines carrying liquid hydrocarbons in oil refineries, petrochemical plants, power generator rooms and oil tankers.