UAE-based Turbine Services & Solutions (TS&S) has signed an agreement with the UK's Greenray Turbines to provide support services for the operator's turbines package solutions in the energy, utilities and process industries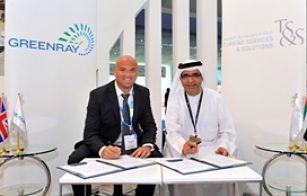 Neil Langdown of Greenray Turbines and Ahmed AlMoosa of TS&S signed a deal that would result in TS&S providing support services for the operator's Total Turbine Package Solutions. (Image source: TS&S)
The deal was signed during the 2013 ADIPEC conference, currently taking place in Abu Dhabi and running until 13 November 2013.
According to the terms of the agreement, TS&S will provide service and support for Total Turbine Package Solutions developed by Greenray Turbines, which are used in gas turbines, power turbines, compressors and supporting ancillary sub-systems.
Greenray Turbines is the exclusive OEM service provider for GEC Gas Turbines and the RT65 and RT66 Cooper Bessemer power turbines. The deal with TS&S will help Greenray Turbines establish a regional service centre for its Total Turbine Package Solutions in the Middle East, Central Asia and surrounding countries, the company said.
TS&S chief executive officer Ahmed AlMoosa said, "Greenray Turbines and TS&S form a strong team and we are confident that we would be able to meet this challenge. Simply put, this is flange-to-flange support."
TS&S said it had plans in place to establish a service center for Total Turbine Package Solutions at its facilities at Abu Dhabi International Airport.
Greenray Turbines chief executive officer Iain Lister said, "Our company and TS&S have complementary businesses and skills, but we work with the same approach and commitment to quality, service and innovation for customers."
The company's sales director, Neil Langdown, added, "Our first project together is for SATCO in the UAE. We are looking for more projects globally.''
READ MORE...
Delegates converge on Abu Dhabi again