For the first time, delegates are set be given the opportunity to participate in two technical site visits as part of this year's Abu Dhabi International Petroleum Exhibition and Conference (ADIPEC)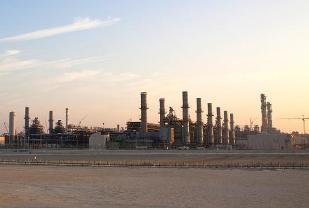 GASCO's Habshan 5 Processing Plant is one of two sites ADIPEC conference delegates can visit. (Image source: ADIPEC)
The optional site visits to GASCO's Habshan 5 Gas Processing Plant and ADCO's North East Bab (NEB) Al-Dabb'iya Field will take place on Saturday 9 November, prior to the show which takes place from 10-13 November at the Abu Dhabi National Exhibition Centre (ADNEC).
The Habshan 5 Gas Processing Plant, which forms part of the Integrated Gas Development Project (IGD), has been designed to process 1,000 MMSCFD of offshore gas from Umm Shaif and an additional 1,000 MMSCFD of onshore gas.
Onshore gas will comprise of a mix of associated gas from the Abu Dhabi Company for Onshore Oil Operations (ADCO) and non-associated high sour gas from the Habshan fields.
Habshan 5 includes a 30-inch onshore/offshore pipeline and facilities to granulate and transport liquid sulphur.
The total plant capacity is 2,150 MMSCFD and the facilities are designed to produce 750 MMSCFD of sales gases, 12,000 tons per day (TPD) of natural gas liquids and 5,200 of TPD sulphur.
Meanwhile, the visit to the NEB Al-Dabb'iya Field will allow ADIPEC delegates to witness ADCO's smart field concept in action, where most of the gathering system and data collection is automated.
ADCO operates onshore and in shallow coastal waters of Abu Dhabi.
NEB has been the site of the MENA region's first carbon dioxide field pilot, pioneering enhanced oil recovery concepts.
The site, which has two man-made islands built with the first clustered pad drilling concept, features many of the latest developments, including peripheral water injection to crystal gas injection and water alternating gas injection schemes.
Potential visitors need to register as ADIPEC conference delegates and reserve their place for one of the site visits.
Visitors will be given the opportunity to spend time with gas and oil experts who are actively involved in and are at the forefront of leading these groundbreaking projects.
ADIPEC, which is now an annual event, is in its 29th year and attracts more than 51,000 attendees, 1,600 international suppliers, NOCs, IOCs and IGOs.
It also features a four-day technical conference, featuring more than 300 speakers, and a business conference, which will take place on 10-11 November and focus on the formation of strategic alliances across the global gas and oil industry.
For further information on ADIPEC, including an extensive preview and analysis, see the upcoming edition of Oil Review Middle East magazine (Issue 7 2013).