ADIPEC organiser dmg :: events has announced that 18 entries across six categories have been shortlisted for the 2013 edition of the ADIPEC Awards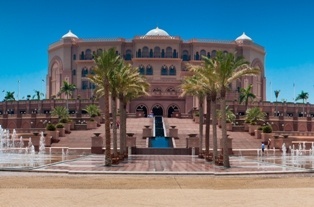 The ADIPEC Awards will be held at the Emirates Palace on 10 November 2013. (Image source: Thomas Huxley/Flickr)
According to dmg, the awards recognise and celebrate energy innovation in the MENA region and are presented to organisations and individuals selected on the basis of a three-tier evaluation process.
The 2013 award categories have been expanded to include two new elements: the 'Empowerment of Women in Gas and Oil Industry' award, which aims to recognise initiatives taken to raise the profile of female gas and oil professionals, and the 'Young ADIPEC Engineer' award, which celebrates individuals who have less than four years of industry experience and have displayed great potential as future leaders, dmg said.
Mohammed Sahoo Al Suwaidi, director of the gas directorate at ADNOC and chairman of the ADIPEC 2013 Conference, commented, "The role of these awards is not just to recognise but to inspire corporations, organisations and most of all people – encouraging them to continue to make a difference in their chosen field of energy expertise."
Al Suwaidi added, "Because of the importance of the awards to the future of the industry, we have brought together a highly skilled and experienced jury team to oversee the evaluation process, and identify outstanding performers in what has been a busy year of energy innovation."
According to dmg, the awards received 292 submissions from 22 countries and 79 organisations from across the region, while the two new categories received more than 60 submissions between them.
The company said nominees were shortlisted after an initial assessment by a Pipeline Review Committee and a Regional Select Jury comprising experts from the regional oil and gas industry.
Each shortlisted entry will be screened by a minimum of seven judges at the Regional Select Jury Meeting on 23 October 2013, dmg said.
Waleed Al Mokarrab Al Muhairi, chairman of the ADIPEC Awards' Regional Select Jury and chief operating officer of Mubadala, said, "I am honoured to have been asked to chair the Regional Select Jury, and have the opportunity to work closely with such a diverse group of experts in the regional gas and oil industry.
Al Muhairi added, "I am particularly looking forward to witnessing the recognition of the winners of the two new award categories: 'Empowerment of Women in Gas and Oil Industry' and the 'Young ADIPEC Engineer'. These categories will help define and support the future growth of the industry by rewarding the rising champions in the sector and promoting diversity."
The shortlisted nominees for each award are as follows:
'Best Gas and Oil Project'
• Petroleum Development Oman (PDO)
• BP Rumaila Oilfield
• The GASCO joint project with ADMA-OPCO and ADGAS
'Best Gas and Oil Innovation or Technology'
• ADMA-OPCO
• BP Rumaila Oilfield
• Kuwait Oil Company
'Best Gas and Oil HSE Initiative'
• Schlumberger
• Qatar Shell
• Takreer
'Best CSR Initiative'
• Total Abu Al Bukhoosh
• ExxonMobil
• ADNOC Distribution
'Empowerment of Women in Gas and Oil Industry'
• PDO
• Total Abu Al Bukhoosh
• ADCO
'Young ADIPEC Engineer'
• Shell Qatar
• Shell Iraq
• Gasco
Winners and runners-up in all categories will be announced at the ADIPEC Awards Dinner hosted by ADNOC at the Emirates Palace on 10 November 2013.