Offshore engineering specialist Aquaterra Energy will showcase its proprietary conductor supported platforms and riser systems with scale models at ADIPEC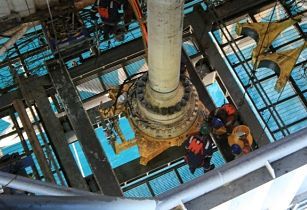 ADIPEC participants Aquaterra Energy will be looking to promote its shallow water expertises at this year's event. (Image source: Aquaterra Energy)
The UK-based company will look to strengthen its position in the Middle East, a market described by the firm as "a strategic priority", thanks to the large amount of shallow water opportunities in the region.
Aquaterra, who delivers end-to-end solutions for its conductor-supported platforms and risers systems to the energy industry, also boasts of a comprehensive equipment inventory and has a lot of experience working in the shallow water sector.
Gary Hackett, VP for international business development at Aquaterra, said, "As we grow and move into additional markets we can clearly see how our innovative solutions can add great value to a variety of expanding projects. We bring fresh and pioneering ideas to what is a very established market here in the Middle East, which is why we're pleased to be exhibiting at ADIPEC 2013.
"Our cost effective rig installed Sea Swift platform for example, has the potential to become a real game changer for those clients seeking fresh and efficient ways of developing their assets and we see this particular market place as a region where such innovation would be welcomed," he added.

Aquaterra Energy will be exhibiting on Stand 8220 in the UK National Pavilion at ADIPEC 2013