Baker Hughes continues to provide technologies designed specifically for unconventional applications and will be showcasing the latest additions to its advanced range at this year's ADIPEC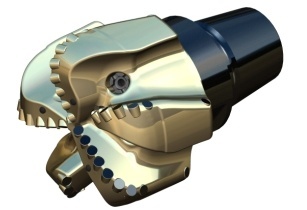 The Hughes Christensen Talon high-efficiency PDC bit is well-suited for first-bit-under-the-surface applications, intermediate, vertical, and near-vertical drilling, as well as hard-to-drill and abrasive formations. (Image source: Baker Hughes)
The Baker Hughes AutoTrak Curve rotary steerable system drills vertical, curve, and horizontal sections in one fast run to maximise available pay zones and reduce the number of trips. Several new drilling records have been set with the system across most of the important unconventional basins in the US.
The AutoTrak Curve rotary steerable closed loop drilling system takes commands from the surface to place the wellbore in the desired direction and inclination. The system has completed more than 610,000 metres of rigorous testing in some of the toughest unconventional environments in North America.
Specifically engineered to meet the needs of those drilling in unconventional oil and gas plays, the AutoTrak Curve system drills more precisely and at a much higher build-rate than other services. The tight angle is particularly critical as it allows customers to intersect a much larger area of the reservoir than was previously possible with rotary steerable systems, resulting in valuable additional pay zone.
Combining an optimised bottomhole assembly and drill bit to maximise drilling efficiency and reservoir exposure, the AutoTrak Curve system achieves high build rates of more than 15˚/30 metres. Tolerant to the presence of lost circulation material in the mud system, the system does not require special pressure drop between the pipe inside diameter and the annulus to operate.
Additionally, a gamma ray detector is integrated into the tool, close to the bit, to allow precise geosteering.
The advanced technology saves time, given there is no need to change the bend angle of a motor, resulting in faster well construction. Given the improved hole quality, completion time is also enhanced and casing can be run to total depth faster and easier.
Operators can pair the AutoTrak Curve system with the Hughes Christensen Talon high-efficiency PDC bit for consistent performance, enhanced durability, and drilling efficiency.
Working together, the AutoTrak Curve system and Talon bit meet the challenges of drilling with accuracy, reliability and speed. Well-suited for first-bit-under-the-surface applications, intermediate, vertical, and near-vertical drilling, as well as hard-to-drill and abrasive formations, the Talon bit can also handle challenging environments, delivering superior directional control and high build-up and rates of penetration (ROP).
All Talon bits begin with the Baker Hughes DART process. Baker Hughes drilling experts analyse customer objectives and reservoir challenges to maximise drilling efficiency by combining new and existing technology, extensive knowledge, and innovative designs to find exactly the right drill bit for a specific application. Talon technology includes advanced mechanical and hydraulic designs, such as uniquely shaped and positioned blades and nozzles, customised bit profiles, low-torque gauge designs, and diverging junk slots. These improved designs mean more energy for rock and large-volume cuttings removal, less vibration, and increased durability to help boost ROP and run life.
The Talon bit highlights a shaped gauge pad that is made up of tungsten carbide and thermally stable polycrystalline diamond materials that protect the gauge pads and keep the bit gauge longer. Another feature is the short shank that decreases the make-up length for higher levels of control in conventional directional drilling and increases bit side force on rotary steerable systems.
The Baker Hughes StaySharp application specific premium polished cutter technology is featured on every Talon bit, which reduces drilling costs by dramatically improving ROP, drilling efficiency and overall performance. Diamond mixes used in the manufacturing process enable the diamond structure in each cutter to be accurately tailored a unique application. The result is a base cutter with an exceptionally wear-resistant working surface, a sharper cutting edge and a durable, impact-resistant supporting structure.
In Oman, an operator was looking to significantly reduce drilling costs and achieve more aggressive performance without sacrificing vertical control in deep exploration gas wells with long, interbedded carbonate intervals and sticky shales. Baker Hughes recommended the 31-cm (12¼-inch) Talon high-efficiency PDC bit combined with its
AutoTrak V vertical rotary steerable system and the Navi-Drill X-treme LS low-speed motor.
On the initial run, the Talon bit drilled from 1,180 to 2,822 metres, covering a total distance of 1,642 metres. The average ROP was 30.5 metres per hour, which was 28 per cent faster than the previous record for a deep gas well in the field and 64 per cent higher than the average ROP.
The operator used another Talon 31-cm (12¼-inch) bit in a gas development well setting a record for the longest, deepest, and fastest shoe-to-shoe run for a comparable interval. Total distance covered was 2,192 metres from 945 to 3,137 metres with an average ROP of 22.95 metres per hour. These results represented a 7.6 per cent improvement over the previous best performance.
Based on these successes, the Talon bit was run in two additional wells. The total saving for the four wells was approximately 21.5 days with a cost reduction of US$749,000.