The ADIPEC Awards Regional Select Jury, has shortlisted the finalists who will be in the running for the ADIPEC 2012 Awards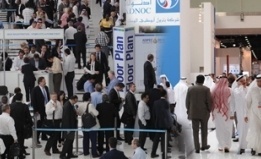 ADIPEC Jury has shortlisted the finalists for ADIPEC 2012 Awards. (Image source: ADIPEC)
The ADIPEC Awards, which acknowledge innovation in the region's oil and gas sector, will be organised on November 11 at the St Regis Saadiyat Island Resort in Abu Dhabi.
The finalists have been selected from 170 entries in six categories.
In the first category, for Best MENA Oil and Gas Project, the finalists have been named as Linde AG, ADMA-OPCO, Saudi Aramco, KOC/Weatherford, Royal Dutch Shell and Emerson.
The second category, Best MENA Oil and Gas Innovation or Technology, includes Siemens, Saudi Aramco (shortlisted for two projects), and joint entries from ExxonMobil and ZADCO, and from Royal Dutch Shell, KOC and Halliburton.
The third category of Best MENA Oil and Gas HSE Project has shortlisted PDO, Unique Maritime Group, Baker Hughes, Total, ADMA-OPCO and EMDAD.
Wintershall, Shell Iraq, Oman LNG, ExxonMobil, Maersk Oil Qatar, OMV and PDO are in the running to win the award for Best MENA CSR Initiative.
The category for Best MENA Oilfield/Gas Field Management, has two projects from Saudi Aramco, and entries from KOC/Weatherford, PDO, KOC.
The finalists in the last category, Best International Oil and Gas Project, are Kuwait Petroleum International, Baker Hughes and Wood Group PSN.
"The record number and exceptional quality of competition entries reflect the GCC's continuing investment in intellectual capital and technical innovation to support the successful implementation of complex hydrocarbon projects," said Dr. Ali Obaid Al Yabhouni, chief executive officer of ADNATCO/NGSCO and UAE Governor for OPEC.
For the final selection phase, shortlisted companies must submit additional video material highlighting the merits of their entries.
In mid-October, all judges of the Regional Select Jury will convene in Abu Dhabi to select a winning entry in each category.