Oil Review Middle East speaks to Kimon Alexandrou, commercial director - energy of ADIPEC organiser dmg :: events, about the upcoming oil and gas exhibition in Abu Dhabi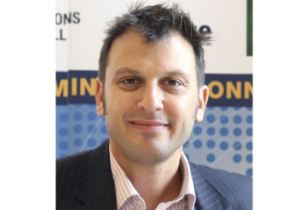 Kimon Alexandrou, commercial director – energy of dmg :: events. (Image source: dmg :: events)
Page 1 of 2
- How important is ADIPEC to the regional and global oil and gas industry?
ADIPEC is the leading oil and gas event for the Middle East and the world's largest event outside of North America. With more than 58 per cent of the world's oil reserves based in the Middle East, ADIPEC is a vital meeting place for the international oil and gas industry.
In addition to the large percentage of oil reserves within the region, the GCC alone has more than US$150bn worth of oil projects and US$74bn worth of gas projects in progress which makes ADIPEC the essential meeting place to network and source suppliers from an global market.
- How international has ADIPEC become?
With 14 national pavilions, 60 countries represented across 1,600 exhibitors and
45,500 attendees coming from 90 different countries, this makes ADIPEC a truly international event. All the major IOCs, NOCs and service suppliers will also be in attendance at ADIPEC and I think it is safe to say that ADIPEC has the largest gathering of NOCs, IOCs and service suppliers for an event of its kind.
- How will the major theme of the show be conveyed?
ADIPEC traditionally runs under a theme that meets the pressing needs of the industry at that time. Currently an important issue affecting the global oil and gas industry evolves around the sustainability of the growth in energy consumption. Therefore, the theme of the ADIPEC 2012 conference is 'Sustainable Energy Growth: People, Responsibility and Innovation'.
Organised in conjunction with the Society of Petroleum Engineers (SPE), this year's programme has been designed to examine a range of best practices as well as cutting-edge technology solutions aimed at meeting present and future challenges in the oil and gas industry. With all the challenges we now face right from the extraction of oil to new environmental challenges, we feel that now is the time to debate and discuss such issues. The topic and content has led to the largest ever conference programme being put together which includes: more than 400 papers selected from the 1,500 submissions, 235 speakers presenting in 50 technical sessions.
The two executive plenary sessions on the first day form an opportunity to hear senior oil company executives discussing the vital elements of sustainable industry growth and sharing insights on new strategies. Following the executive plenary sessions, five panel sessions will take place, debating key topics such as 'Meeting the world's needs for energy', 'Human capital preparations key to future industry success', 'Unconventional oil and gas development', 'Can gas resources alone respond to growth aspirations?,' and 'Sustainability, environmental improvements and CSR'.
- How much has the show expanded from two years ago?
In 2010, ADIPEC covered 35,000 sqm of exhibition, had 1,500 exhibitors and 45,500 attendees. For 2012, ADIPEC has grown to 38,000 sqm (a 15 per cent increase), 1,600 exhibitors and we expect to welcome more than 50,000 attendees through the doors. I think it is fair to say that these figures are quite an achievement and a testament to the importance ADIPEC has for the worldwide oil and gas industry.
Since 2010, we have been working hard to get the message out to the market that, outside of North America, ADIPEC is the largest event for the industry and with the introduction of the new outdoor exhibits and offshore halls, plus the fact that we still have more than 100 exhibitors on the waiting list, exhibitors have recognised the importance of ADIPEC.
To this extent, we have reached a milestone in ADIPEC's history. As from
2013, ADIPEC will become an annual event meaning that our exhibitors can benefit from the business opportunities ADIPEC brings on a yearly basis rather than waiting every other year.
- What were the biggest challenges you faced in preparing for this year's show?
ADIPEC's biggest challenge has been to try and accommodate so many exhibitors. With 38,000 sqm, which include a new outdoor sector, ADIPEC now takes up all of the space at ADNEC and has no more space to grow into. This is why we have more than 100 exhibitors on a waiting list and why we are becoming an annual event. Even being in a state of the art venue like ADNEC, who are constantly improving their facilities and expanding, they cannot keep pace with the growth of ADIPEC!
In addition to this, we had to ensure we created the largest and best conference programme line-up for our 4,000 delegates. We received more than 1,500 paper submissions from 58 countries, representing 117 companies – the highest number ever! Trying to whittle this number down to a manageable level and select the best papers submitted was an extremely difficult task and a task that was undertaken by our event committee which was led under the chairmanship of Mr Ali Al Jarwan, CEO of ADMA-OPCO. There are even a further 200 'poster sessions' for papers that couldn't get included but were still worthy of some kind of representation during the conference.
Continues on Page 2...