Tecnicas Reunidas wins Sadara contract
Thursday, 02 August 2012 09:22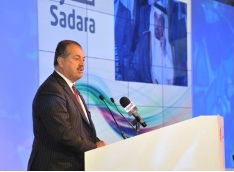 Spanish oil engineering company Tecnicas Reunidas (TR) has been awarded a contract by Sadara Chemical Company (Sadara) to build part of a petrochemical complex in Jubail II Industrial City, Saudi Arabia
The US$800mn contract for the Chem-III project, will form part of the US$20 billion chemical complex being built by Sadara, a joint venture between Saudi Arabian Oil Company (Saudi Aramco) and The Dow Chemical Company (Dow).
The project awarded includes the construction of the ethylene oxide, propylene glycol, polyols, ethanol amines, ethylene amines and butyl glycol ether plants, as well as the auxiliary and control facilities necessary for their operation. The plants have been scheduled to start operations in 2015.
TR will perform detailed engineering, procurement and supply of the equipment and materials, construction of the plants and the support during commissioning of the units.
Upon completion, the Sadara complex in Jubail will become the world's largest chemical complex ever built in a single phase.