ADNOC has announced a final investment decision (FID) to develop the Habshan carbon capture, utilisation and storage (CCUS) project, one of the largest carbon capture projects in the MENA region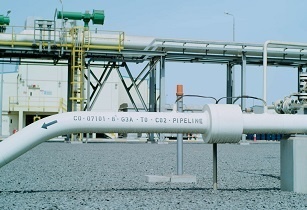 The new project will be one of the biggest carbon capture projects in the MENA region. (Image source: ADNOC)
The project will have the capacity to capture and permanently store 1.5mn tonnes per annum (mtpa) of CO2 within geological formations deep underground and will triple ADNOC's carbon capture capacity to 2.3 mtpa.
This project aligns with ADNOC's recently announced Net Zero by 2045 ambition and forms part of the company's initial US$15bn (AED55 billion) decarbonisation investment in low carbon solutions. ADNOC is implementing a number of pilot projects, including CO2 mineralisation and full carbon sequestration in saline aquifers, as part of its wider carbon management strategy, which aims to create a unique platform that connects all the sources of emissions and sequestration sites.
The project, to be built, operated and maintained by ADNOC Gas on behalf of ADNOC, will include carbon capture units at the Habshan gas processing plant, pipeline infrastructure, and a network of wells for CO2 injection. CO2 will be permanently stored in reservoirs deep in the sub-surface through the deployment of closed-loop CO2 capture and reinjection technology at the well site. The project is scheduled for completion by 2026. It could provide for enhanced oil recovery of low carbon-intensity barrels as well as the production of low-carbon feedstocks such as hydrogen, to help customers decarbonise their operations.
Musabbeh Al Kaabi, ADNOC executive director of Low Carbon Solutions and International Growth, said, "The Intergovernmental Panel on Climate Change has stated that carbon capture and storage is a critical enabler for the world to achieve net zero by mid-century. This landmark project, is one of many tangible initiatives that ADNOC is delivering as we accelerate our decarbonisation plan to meet our Net Zero by 2045 ambition.
"As ADNOC continues its transformation towards a lower carbon future, it is our intention to make further investments to significantly reduce our emissions, including in carbon capture and storage, and push the boundaries of innovation and technology with our partners, to build on our world-leading legacy and industry leadership in carbon management."