Lamprell expands into Saudi Arabia with new JV
Thursday, 06 September 2012 07:37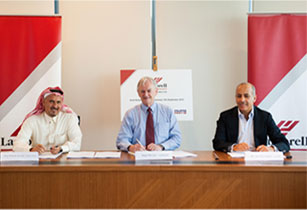 Lamprell has signed a deal to create a joint venture with Saudi Arabia's Shoaibi Group and Al Yusr Townsend and Bottum (AYTB) named Lamprell Arabia
Lamprell Arabia, which will company's operations in Saudi Arabia, will offer new build fabrication, refurbishment and repair of Saudi Arabian land rigs, ancillary fabrication for onshore assets and services on Saudi Arabian offshore rigs.
The new joint venture will be based in Al Khobar in the Eastern Provence, with the aim being to open a local workshop in the recently-built Shoaibi Group Oil and Gas Park, which is located in the Industrial Village Zone in Dammam.
Nigel McCue, chief executive officer of Lamprell, said, "Saudi Arabia presents strong opportunities for Lamprell in the onshore rig market.
"As we continue to strengthen our core competencies, this agreement builds on the group's existing business in the country, furthering our long-term relationships with the two companies and leveraging our expertise in land rig services."
The location for the new entity will provide a launching pad for Lamprell to enter the growing upstream market in Saudi, which has witnessed a growing demand for advanced drilling equipment and oilfield services. There are an estimated 98 onshore drilling rigs in the country, said a company statement.
"This joint venture builds on the strengths of the three companies to expand Lamprell's operations in Saudi Arabia and will further reinforce Shoaibi Group's market positions across our engineering and contracting services to the Saudi upstream industry,"added Shoaibi group director Khalid Suhayl Al Shoaibi.